ABOUT ME

I am 22 years old, and live in Wisconsin. I have 3 sisters, 1 step-brother, and 1 step-sister. I also have 2 nephews and 1 niece. I am one of the biggest Charlotte Hornets fans in the world. My favorite Basketball player no longer plays for them, but he still rules, and the Hornets still rule! Larry Johnson is the man!!!!! Our dart league is over and we finished in 3rd place. Below is a picture of me. I tried to enlarge it.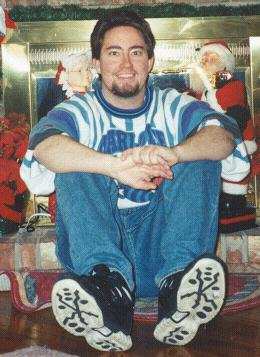 I graduated from Blackhawk Technical College in Janesville, Wisconsin with a Microcomputer Specialist Degree. I also work at Frito-Lay in Beloit, Wisconsin. I love to watch sports and wrestling. I also love to do voice impersonations and learn new ones. So far I've been able to do the following, but some are not as good as I once could do them.
Elvis, Big Bopper, Tiny Tim, Barney(dinosaur and drunk from Simpsons), Michael Jackson, Bushwacker Butch, The Macho Man, Undertaker, Paul Bearer, Animal (from Muppet Babies), Hawk (from LOD), Rocky Balboa, Jackalope(from AFP), etc.
Well, that's about all I can think of to say right now.
Any other questions can be sent to hornet_02@hotmail.com